Russian Twitter Anthem
30.12.2015
Dmitry Malikov, along with popular Russian rapper Dino MC47, recorded a song titled #Tyazhelovato, which was recognized by many Twitter users as an anthem of Russian Twitter.
читать далее...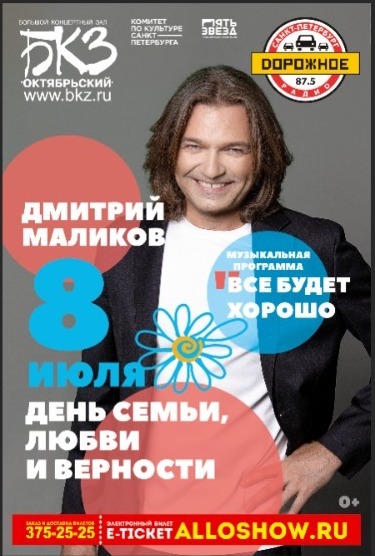 End of the year awards
23.12.2015
In December 2015, Dmitry was awarded an Order of Friendship by the President in recognition of Malikov's contributions to Russian culture.
читать далее...
INFO
Dmitry Malikov is a well-known and popular Russian musician, composer and singer. He started his music career in 1988 and at age 20 became loved by millions performing to thousands-strong audiences at stadiums all over Russia.
The dazzlingly successful pop singer career did not prevent Dmitry from getting an excellent classical music education. In 1994 he graduated with honors from the piano faculty of the Moscow Conservatory and is a follower of the legendary Neuhaus piano school.
Among the great many of Russian music artists Dmitry is the only one in the country who is both a successful pop singer and a music composer and pianist writing music for films and light shows, performing along with the best orchestras and musicians in Stuttgart, Prague, London and Moscow. He has worked with Vladimir Spivakov, Yuri Bashmet, Chris de Burgh, Richard Clayderman, Igor Butman, Michael Nyman, Robert Wells.
Dmitry has released 14 albums with sales totaling 20 million. He has worked in Germany at Coconut Records studios (1992); in 1995 he won the Best Eastern Europe Artist nomination at the World Music Awards in Monte Carlo. Dmitry Malikov was recognized a People's Artist of Russia, which is the highest state award for artists. He wrote music for the Moscow International "Circle of Light" Festival, the Scarlet Sails celebration in Saint-Petersburg. He is a co-producer of the SymphonicMania show in France where he made his debut as a conductor.